Twice a year Purna organises trips to collect seeds, cuttings and seedlings for Garden in the Himalayas and study the montane habitat of the abundant Himalayan flora. It's a perfect trip for nature lovers and botanists who appreciate treks off the beaten track.
august 2020 plant exploring expedition IN MANASLU region
An exciting 14-16 day Plant Hunting Expedition to the beautiful mighty Manaslu region. Some call it the best all-round trek in Nepal and it's on the Great Himalaya Trail. Manaslu (Nepali: मनास्लु, also known as (Kutang) is the eighth highest mountain in the world at 8,163 metres (26,781 ft) above sea level. It is located in the Mansiri Himal, part of the Nepalese Himalayas, in the west-central part of Nepal. Its name, which means "Mountain of the Spirit", comes from the Sanskrit word manasa, meaning "intellect" or "soul".

The Manaslu region is regarded by some to be a 'beyul'- in Tibetan Buddhism- a sacred valley. Some believe that meditation and prayers are multiplied a hundredfold there.

Our maximum altitude will be 4610m (RUBINALA PASS) and you will enjoy amazing views of the high mountains, including himchuli, Boudha Himal and Manaslu. We will be collecting plants and seeds for Garden in the Himalayas and studying the montane habitat. The expedition promises to be the adventure of a lifetime.

Trek starts between 8th and 11th August. Do get in touch to find out more.
FEBRUARY CULTURAL TRIP AND PLANT exploring Expedition
In February 2020 there will be a fantastic 10-14 day plant-hunting and cultural trek in the remote Lamjung and Kaski regions of western Nepal. The maximum altitude will be 3,400m with views of the high mountains, including Annapurna and Manaslu.
We will spend three or four days at a time trekking and camping in the pine and rhododendron forests, and then take a rest day at a mountain village, helping the villagers with whatever seasonal tasks they are undertaking and joining in with local life. The local culture is both hospitable and fascinating - we'll be experiencing it from the inside rather than as a tourist. We will be collecting plants and seeds for Garden in the Himalayas and studying the montane habitat. The expedition promises to be the adventure of a lifetime. The trek starts from Pokhara between 7th-10th February.
Please call or email for full details and a dossier.
I found the trek inspiring, fun and totally enjoyable. Thanks again for giving me such a memorable time in Nepal.
Rachel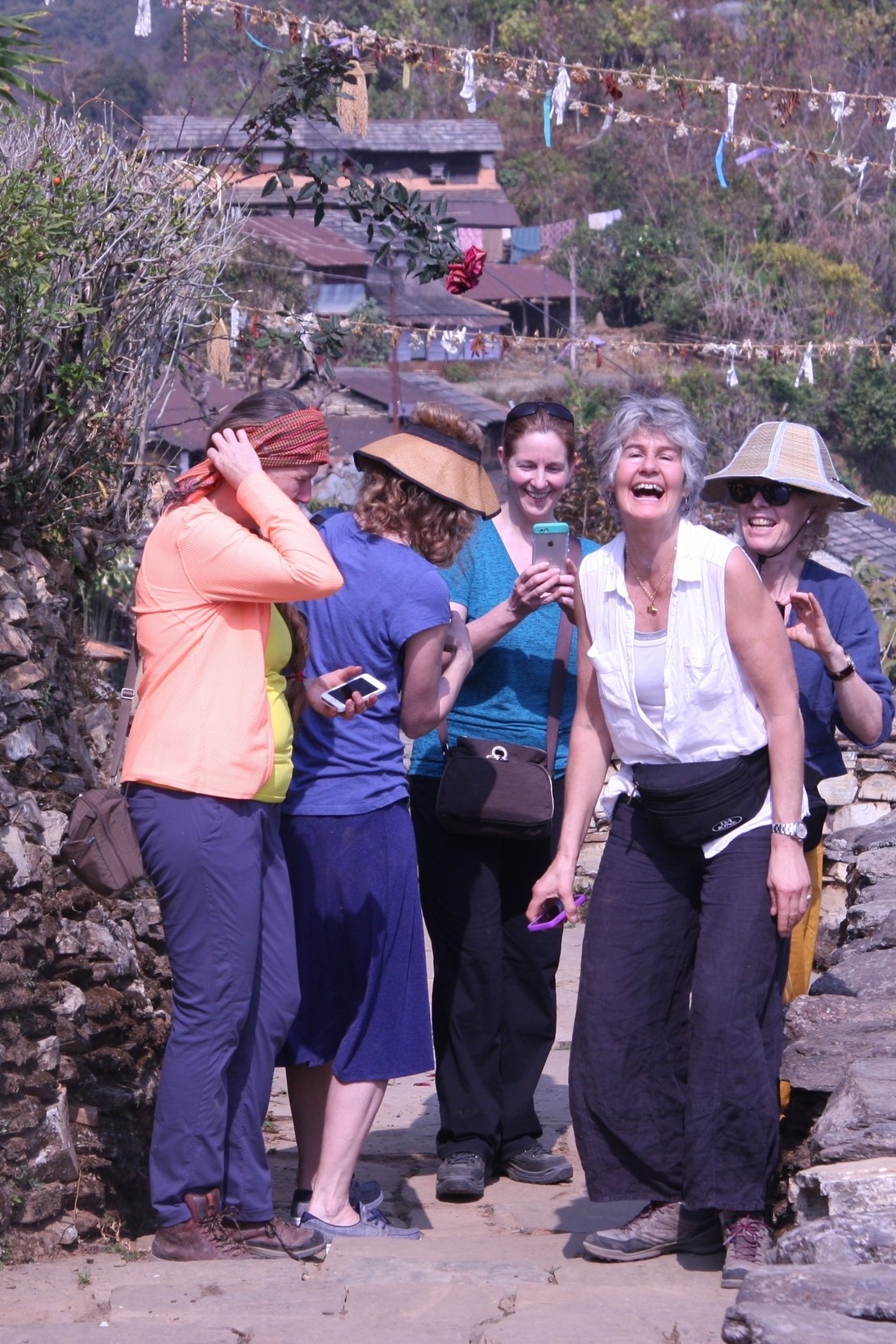 Purna's the boss and he's very efficient
He's got lots of plants which I hope are sufficient,
Nothing's a problem, he smiles with pure charm,
You know when he's there, you'd come to no harm
I think I can say a great time I've had
So it only remains to say
Dhanyabad!
Claire
"The trek taught me a new way of hiking. Instead of being focused on the destination I have learned to absorb the moment and surrounding beauty of each step. Usually I did not pay much attention to plants along the way. But Purna's passion for studying the plants along the way inspired me to change my perspective. Now I no longer see a "green bunch" but I rather started to pay attention to single plants with all my senses: not only see their leaf structure but also touch, smell and sometimes even taste them. Listen to the music concert of the insects.
This is when walking becomes a meditation."
Laura, German student
August 2013 First plant Hunting and Pilgrimage expedition to Dudh Pokhari
The expedition was one of a kind experience which allowed me expose myself to nature and feel free. It opened up my adolescent mind and made me realise there is so much more to life than the daily activities occurring in the west. (...)
The group that accompanied me were very helpful, the guides were incredible and had a vast array of knowledge on the terrain and life on the mountains, they made me feel comfortable and safe.
by Sachin